« The curious pinguins | Index | Shit happens in spades »
Grab the baton ... Tweet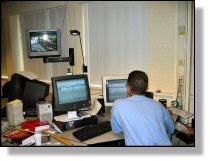 I've found a stick on the web, at Dimitri's place. From Breda Dimitri is running the Breda/Ärhus City Mirror, together with Ingrid who is based in Danmark. I still have to write a review on their beautiful mirror for the newspaper. When i finally wanted to start today and checked out their websites, I lost my way in a few mouse-clicks.
On the first lesson of the English Writing course i've started last tuesday my teacher Graham Hüner has advised me to buy a good dictionary as well as a thesauris. Better: a digital dictionary that can be loaded into my computer memory so i can search for the right words, and lots of new words, while writing. For now i check and old Wolters Dutch-English dictionary. It shows me stick isn't the right word for what i've found at Dimitri's. It's baton, cause it's a baton that i'm taking over, and that i have to hand out to the next runner on the web. The target? Nobody knows. The stick, i mean baton, is a picture of your computer spot. My machine it temporarily on the job, where i'm always busy running, updating and developing the newspaper website where i'm working. My home machine is hosted here for a while because i'm in the middle of renovating our old house. I haven't moved the ADLS connection to our temporary house because that wouldn't be a sensible thing to do. Thanks to our national telco KPN it's apparently easier to tug an iceberg from North to Southpole and back without melting than to move and remove an ADSL.
The box at the wall is the telly, showing a Spanish rider during the last Tour de France. The black machine in the middle is the Dell from the boss, the one on the right is mine and serves as a big jukebox. I'ts running either Windows 2000 with Music Match Jukebox, but sometimes, for fun, i boot Knoppix Linux 3.2 with XMMS as music player. The disk holds a few gigabytes music, all MP3, all legally; downloaded and payed for from Weblisten.com, or rips of music I own on cd. I'm not sharing anything. On top is an external Creative Audigy Sound Card, and a set of Klipsch boxes, so if we want we can blow the roof of the central desk. At the internet desk we're early risers. From 07:00 until 09:00 it's peakhour, but also coffee and party time. After nine lots of serious people walk in and the volume goes down to muzak level. Another day at the office has started...
Grab the baton, pass it on, and let me know where you've parked it. Have fun!
Click here or on the small picture for a bigger pop-up.

Posted: October 2, 2003 10:50 PM (459 words). Tweet
Comment over here or on my
Facebook wall
. . .