« Saved by the backup | Index | Voetbalvrienden »
Contest closed Tweet
I haven't been here for a while. The main reason: the foto-contest in the newspaper that kept me quite busy the last three weeks. As almost 1000 pictures have been sent in by our readers, we call it a succes.
It's interesting to see the shift from classic to digital.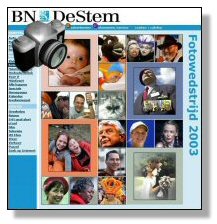 Two years ago we ran a similar contest, with a cultural theme. The percentage of digital pictures then was approximately 60, with 40 percent prints sent in, that had to be scanned. For the baby picture contest, that closed the first week of january 2003, the percentage was 70 digital, 30 prints. Now only 150 photographs have been sent in by mail, so almost 85 percent of the contestants used a digital camera or a scanner.
I resized all thumbnails manually. I know you can do it fully automatically, be it in Photoshop, Paint Shop Pro, Fireworks, and some other applications, but i never like the results. The thumbnail pages are the front face of any album, and in most cases I've cropped part of the bigger picture before resizing them to the thumbnail size.
Entering the data of the contestants (name, adress, e-mail, phone) was a nuisance, as most of them use different ways, formats, mail-clients. Next time i'll set up a scheme where contestants upload there own pictures by means of a web-based form, and have to enter their data themselves. Probably already for next Christmas and the Xmas-card contest.

Posted: November 1, 2003 10:30 PM (242 words). Tweet
Comment over here or on my
Facebook wall
. . .