« Big birds | Index | Communicatiekonijnen »
Baggy Maggy Tweet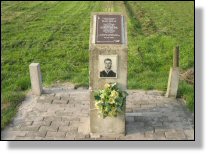 Bicycling trough the boarder area between the south of the Netherlands and the north of Belgium, somewhere in the country between the village of Castelre and the city of Hoogstraten, I saw a memorial for William Kirlin, radio operator of the Baggy Maggy.
The text on the stone doesn't say anything about the faith of Baggy Maggy, only that William died on the spot where the memorial is, on september 18, 1944. Did William fell out of the plane? What happened to Baggy Maggy?

The translation of the text is:
In thankful rememberance of technical sergeant
William Kirlin Jr.
24 years old
Born in Shillington
Penssylvania USA
Radio Operator of the
B-24 Liberator 'Baggy Maggy'
serial number 42-100416 of the
409th Squadron
93th Bomb Group (H)
USAAF 8th Airforce
2nd Air Division

On monday september 18 1944
died on this sport
For our Freedom

Posted: March 25, 2004 09:25 PM (144 words). Tweet
Comment over here or on my
Facebook wall
. . .