« Google Gmail: waar of niet waar? | Index | Don't say I didn't warn you! »
Dear Mr. Krijnen, about Baggy Maggy Tweet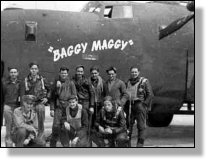 My name is Steve Howard. Recently you sent an email to my father Ray Howard, concerning my grandfathers' former favorite aircraft, "Baggy Maggy". I can't tell you how excited I was to receive the forward from my father. I knew that "Baggy Maggy" had crashed in Sept. of 1944, but I never knew of this memorial to the radio operater. It was so great to see that "Baggy Maggy" has a lasting memorial.
Fortunately, my grandfather survived his 31 missions and was able to come home. It was heartwarming to see that there is a memorial to the brave soldier who died while protecting freedom, and wasn't able to come home. Thank you again for the information.
Sincerely,
Steve Howard
Wonder Lake, Illinois
U.S.A.
Posted: April 6, 2004 03:50 PM (124 words). Tweet
Comment over here or on my
Facebook wall
. . .