« Schone Spelen | Index | De laatste vlucht van Baggy Maggy »
The last flight of Baggy Maggy Tweet
How a bycyle tour on a beautiful sunday morning through the boarder area between Baarle-Nassau en Hoogstraten - thanks to the world wide web - is followed by an e-mail correspondence with American veterans of World War Two, survivors of the crash of Baggy Maggy.
Link: Dutch Translation
At the roadside of a narrow country road between Castelr頡nd Hoogstraten stands a little memorial. Last year I'd forgotten my camera when I saw, at the side of another Belgian meadow, how a male mini horse, in an obvious state of excitement, desperately but in vain, tried to mount a huge female workhorse, who couldn't have cared less. The fact that I missed at least a nomination in the category 'humour' in the yearly Silver Camera contest is the reason that my Digital Ixus these days is number one on the checklist for each biking tour, topping the spare tires and the bycicle pump.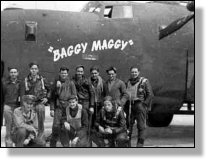 I shot some pictures of the intriguing memorial, spotless, well maintained, fresh flowers attached. With a text on a bronze sign, that made me curious, for two reasons.
To begin with, the boarderline between Holland and Belgium over there is a bit freakish, but, with the familiar very high tower of the church of Hoogstraten only a few miles away, I was almost sure I was in Belgium.
Nevertheless a little sign in the down right corner on the memorial says it's placed there and maintained by the ANWB
((Algemene Nederlandse Wielrijders Bond, or Official Dutch Biking Association). The ANWB was established more than 100 years ago as an association for the promotion of cycling in the Netherlands. It's aim was to do this by signposting and providing information on bicycle routes. These days it has turned into the national car drivers association, like the American AAA. ))

Secondly, the text says that on monday september 18, 1944 at 17:00 24-year old Amerikaan William Kirlin, from Shillington, Penssylvania, was killed in action on this spot. Kirlin was the radio-operator of Baggy Maggy, a B24 bomber, serial number 42-100416, 409th squadron, 93th bombing group, 8th airforce, 2th air division.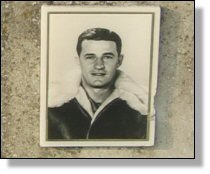 As we all know Baggy Maggy is by far not the only bomber that went down in Dutch or Belgium territory during WW 2. There a more memorials in Holland, at the spots were Lancasters en Liberators, B17's en B24's, with or without their bombs, went down.
But the text on this memorial tells nothing about the faith of Baggy Maggy. Did William Kirlin fell out of the at high altitude over Castelr頦lying B24? Did he bail out with a parachute, to be killed at the ground?
Let's go to Google. The searchterm B24 is good enough for a wealth of websites that have something to do with the Consolidated bomber.
(Note: this is where I erred, and wrote Boeing B24 in the original article, thank you Kees Heirbaut.)
There are websites of fans of historical planes, but also forums of veterans who actually served aboard Liberators during World War Two. Baggy Maggy as search term also brings me to B24 websites, but is seems there was ever also a food producent who sold Maggy Baggy cookies. On EBay someone is selling antique cookie tins, Baggy Maggies.
All American bombers had (and have) a nickname. Maybe Maggys crew had a sense of humor and gave their bomber the name of a flying cookie jar.
Anyway, I put some posting on some websites, accompanied by the pictures I took.
Here is where the beauty of the internet comes in action. Within one day there are reactions, among them survivors from the crash of Baggy Maggy!
?What a touching memorial', writes Glenn Morrison Strong, 'We should all be grateful. Dad's navigator was KIA 7/28/44 at Ploiesti and was also from Shillington, PA. and it is next to Reading. They probably knew each other as they were the same age. Bless'em all and Requiem in Pace'.
Next day more mail, more reactions, and the story about the last day of Baggy Maggy, alsmost sixty years ago. Until then a Guardian Angel for her crew, because there where not that many bombers who returned home after more than thirty missions. But one day after the beginning of Operation Market Garden Bagy Maggy finally flew out of luck.
?Dear Mister Krijnen?, Donald Dukeman writes, 'I just received the pictures you sent to Ray Howard of William Kirlin Jr.'s memorial over there in Holland. I was the flight engineer on that fateful day Sept. 18 th. 1944. We were supplying the Paratroopers that had landed in and around Arnhem Holland on the 17 th. of Sept. We were only flying around 300 to 400 ft above the ground, because we had very little area to drop the supplies. We were hit with 20 millimeter shell and lost almost all our control and we could only fly for about 15 minutes before we had to crash land into that field where the memorial stone is. Bill was crushed by the top turret which broke loose when we crashed. We were very lucky, other wise 9 men out of 10 walked away from the crash.


The crew became POW, after within minutes of the landing the Germans arrived from all directions. Donald Dukeman writes again the next day; in 1994 he visited the memorial on the 50th anniversay of the crash with other survivors.
++++++++++++
Note: this is where I erred again, having mixed up something in the mass of mails and postings on the B24 websites. Thanks to Jos Roozendaal: It is not Donald Dukeman who was here in 1994. Visiting were co-pilot Richard Scott, his wife Lucy, bombardier George Sadler, right waist gunner Eugene Shabatura, William Kirlins sister, mrs. Gertude Stuber-Kirlin en the wife of one of Williams nephews.
++++++++++++

Bill Kirlin was buried on the spot, but after the war his body is brought to the big War Cemetry at Margraten, Limburg.
Donald Dukeman, as well as the other veterans who have seen the pictures, are proud and glad that the monument is still so well maintained. I know now that is the work of Jos Roozendaal.
My last question: does anbody know what happend to Baggy Maggy? Put on fire, put apart, taken off again with a German in the seat? Can anybody in Castelr頯r Hoogstraten telle me more?
++++++++++++
Well, this was the translation for Larry Hewin, Donald Dukeman, and George Burford (three last survivors of the crew) , and for anybody who is interested inthe history of Baggy Maggy.
As all my questions are answered now (check out all postings under the Dutch version) and at the first postings, I am planning a larger article for my newspaper later his year, but probably very soon, I think sooner than september.
I'll keep everybody that has posted, up to date.
Kind regards, Leon Krijnen
++++++++++++++++
Posted: April 9, 2004 09:01 PM (1133 words). Tweet
Comment over here or on my
Facebook wall
. . .