« Guardian Angel, tot de eerstvolgende stoelgang | Index | The Fat Lady »
Up and running: MovableType 3.0 Tweet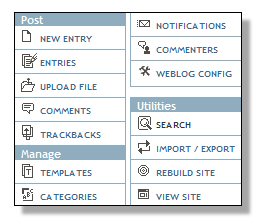 Up and running: version 3.0 of Movable Type Publishing Platform. Having said that, apart from the fact that the installation/upgrading manual could be a little clearer om some points, I'll have to find out what the new release can do more. One good step forward is the possibility to delete comments in batches, and setting up rules voor registered comment authors. I'm sure a lot of bloggers are fed up now with spam comments, like porn or viagra advertisements. Last week I had an average of a hundred and fifty of those bloody things per day - posted by a moron who calls himself lipitor. Until 3.0D I had to delete them one by one before rebuilding the files, be it through the Movable Type user interface, or in PHPMyAdmin. I think there must be a query to delete all comments in MySQL if posted by a certain commenter, but as I am using MySQL itself not often enough, I haven't got a clue what kind of query.
Anyway, in the new comment filter there's a possibility to do so. You can list comments displayed to certain e-mail adresses, physical names, or ip-adresses. What's more, three different statuses can be attached to the comments: approved, pending approval, banned. And the possibuility to check or uncheck all comments before deleting, in rows from twenty or more. Beautiful!
From the same menu you can call lists of all comments - coming up with editing or deleting fields and buttons - from any commenter, all comments on any entry, all comments form a certain ip-adress, all comments by e-mail adress, if given by commenter.
What more can be done with 3.0, I'll have to check out later, but it looks good.
Posted: May 27, 2004 01:02 AM (285 words). Tweet
Comment over here or on my
Facebook wall
. . .