« De jukebox | Index | De webcam en de wedergeboorte van de jukebox »
Volume Logic Tweet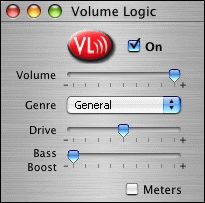 At least every day you read something, and while it fades out of memory, all you think is 'yeah, right'. Don't know why, but last week I bought a magazine called 'Playlist' at the local kiosk. It turned out to be a special issue of MacWorld, completely devoted to all that's iPod.
In it were a lot of articles and advertisements about, you guess it, iPods and iPod peripherals. I had some problems with my iPod recently in trying to synchronize a large (over 4000 songs) library. Before the process was finished it was stopped after 45 minutes because the battery was low. What I learnt from the magazine was that the new 4th generation iPod charges also via USB during synchronizing, while the previous (my 30 gig) only charges during syncing if you use the FireWire connection.
Due to a hardware problem on my machine I only used the USB connection for the iPod. First thing to do one of these days is fix the FireWire card (or buy a new iPod).
While I ponder my options, one add looked very interesting, tough, I must admit, at first I thought 'yeah. right'. The website is called www.octiv.com, the product Volume Logic.
The add says: 'If you want bigger, fuller sound, you don't have to buy new speakers. With the volume Logic plug-in for iTunes, your music and speakers sound better than ever. According to a review in MacWorld; 'The results are amazing. With Volume Logoc turned on, a cheap set of computer speakers sounds better, and a good set of speakers sounds superb'. What the plug-in does is digitally remaster anything played in iTunes for consistent volume and spectral balance.
Really? Thought skeptical, I've downloaded the trial version this morning, and I could'nt believe my ears. I've tried it on two machines. To begin with on 'The Jukebox', my music dedicated machine. Only a couple programs running on The Jukebox; firewall, virus scanner, browser, iTunes, MusicMatch Jukebox. Attached an external Creative Audigy 24 bit SoundBlaster, and a set of Klipsch Pro Media speakers. The other machine is my internet workhorse, with a simple internal sound card, and a simple set of eight year old pc speakers.
Until this morning the Jukebox was a very satisfying combination with ample volume and quality. Now that I've got Volume Logic running a whole new world of sound has opened. And while the set-up on the machine with the cheaper card and boxes is not to be compared with the Audigy/Klipsch combination, the sound quality on it is much better too.
The results are so astonishing that I've stopped using MusicMatch. I liked the interface and navigation of it just a bit better than iTunes, but Volume Logic will only work with iTunes. While writing this, listening to the music, I know I will always run Volume Logic from now on. I loved my Klipsch speakers before Volume Logic, but, no matter what your speaker system is, all music sounds a hundred times better with Volume Logic.
Please do yourself a favor, and download Volume Logic and install it for a free 14 day trial. In the meantime, I am going to buy it.
Posted: October 7, 2004 05:53 PM (531 words). Tweet
Comment over here or on my
Facebook wall
. . .