« Konfabulator: check it out | Index | Ook de recensenten moeten aan de computer »
Six Apart Guide to Comment Spam Tweet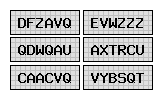 While I'm still counting my blessings after having installed Brandon Fullers Captcha!, it never hurts to keep reading and studying other ways to prevent (comment) spam.
Jay Allen has posted a comprehensive document on the Movable Type website regarding all kinds of problems and solutions.
The document describes how malicious or unwanted comments ('comment spam') affect weblogs, the techniques spammers use to abuse weblogs, and the tactics that can be used to prevent and defend against these attacks. Also included is a review of the strengths and weaknesses of each tactic, instructions for implementing them on your weblog and ones which we recommend for the best protection. Enjoy!
Permalink to 'Guide for Fighting Comment Spam' Also available in PDF
Posted: January 11, 2005 11:23 AM (119 words). Tweet
Comment over here or on my
Facebook wall
. . .