« Komt het einde van internet in 2006? | Index | Finally in Patagonia »
On the road again: Argentina, Chile, Paraguay and Uruguay Tweet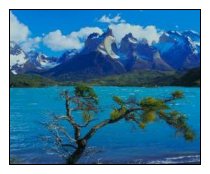 Finally: with almost empty backpacks we're flying Brussels - Madrid - Buenos Aires early tomorrow morning. We'll be leaving from Buenos Aires also, 10th of april, and in the meantime we'll be traveling through Argentina, Chile, Paraguay and Uruguay.
We planned some kind of route, which me might follow, and then again we might change our plans and follow other tracks. Some of these targets are city and province of Buenos Aires, Patagonia and Tierra del Fuego (Fireland), Chile, Valparaiso, Ascuncion, Montevideo, Mendoza, a lot of national parks, a lot of cities, a lot of beaches, a whole lot of mountains.
The fact that a big part of our trip is done in the fifties by Che Guevara, as in the book and the movie The Motorcycle Diaries, is coincidentally: when we started planning our trip, we didn't know the book, nor the movie. I will be reading it over there.
When the flash cards are full we might enter an internetcafe and upload to ImageFolio, and do some writing over here, so come back every once in a while.
If you want to get updated when something has happened over here, add your e-mail adress on the mailing-list in the box on top of the right side of the home page.
Adios!
For the Dutchies;
Ik ga weer een tijdje de hort op; van 22 januari tot en met 10 april door Zuid-Amerika reizen. We beginnen en eindigen in Buenos Aires. Dat we in de tussentijd gedeeltelijk dezelfde route volgen die ene Che Guevara in de jaren vijftig op de motor heeft afgelegd is puur toeval. Toen we de reis begonnen te plannen hadden we van het boek en de film nog niet gehoord.
De route is ruwweg een grote Acht door het zuiden van Zuid-Amerika: Buenos Aires - Patagonia - Vuurland - Patagonia - zuiden Chili - midden Argentinië - midden Chili - noorden Argentinië - Paraguay - Uruguay - BA. Voornamelijk bussen en treinen, af en toe een auto huren. Zoiets.
Mijn wekelijkse internetcolumn verschijnt die maanden niet. Je schijnt er te struikelen over de internetcafes, dus mijn weblog zal regelmatig bijgewerkt worden in tekst en beeld, en via deze weg zult daarop opmerkzaam gemaakt worden. Het zal in het Engels zijn, vanwege Amerikaanse en Australische vrienden en ex-reisgezellen, die virtueel meekoekeloeren.
Als u op de hoogte gehouden wil worden van nieuwe updates, tik dan uw email-adres in het venster bovenaan de rechterkant op de homepage.
Adios!
Posted: January 21, 2005 12:02 PM (397 words). Tweet
Comment over here or on my
Facebook wall
. . .