« De wiki sneuvelt door digitale vandalen | Index | Grote Steden Wielertocht »
Yahoo! editor slams us, mainstream newsies Tweet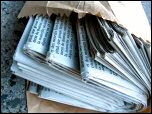 Here's another one all my colleagues should read, and try to understand the implications. Yahoo! UK editor Simon Hind showed his audience at City University Cass Business School a screening of EPIC 2014 (by now you've all seen it, have you?), and then adressed the students about where we're all going.
A review of his lecture shows that newspaper editors in the UK have the same problems in keeping up with the changes as over here, in The Netherlands: industry still preoccupied with aping newspaper formats.
Posted: June 25, 2005 12:39 PM (86 words). Tweet
Comment over here or on my
Facebook wall
. . .