« Grote Steden Wielertocht | Index | De slagboom gaat weer omhoog »
Wake up, RAAK lovers Tweet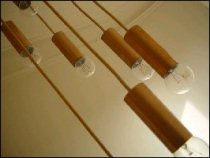 Hey there, Iris and Michael, and I think some others in Mill Valley and San Francisco would kill for a set of RAAK lights. I remember that big second hand design warehouse we visited together in Union City had some similar stuff.
Here's your chance: check out eBay from friday on. Roosendaal, a city west of Breda, is renovating the Raadhuis, it's city hall, and will be auctioning a large number of RAAK light objects on eBay.
Do a search on RAAK on Google and you run into a lot of people looking for design lighting like this. If Roosendaal is really smart they're mailing these people right now. So, design loving Aussies and Californians, If you like I can bid for you, collect the items if I win the bidding, and then keep them in a safe place until you'r here again someday. Now all I need to know is your max :-)
Posted: June 29, 2005 08:30 AM (152 words). Tweet
Comment over here or on my
Facebook wall
. . .