« GoogleSun OS | Index | De CNet Blog 100 »
Google RSS Reader . . . Tweet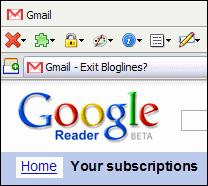 Hebben we deze al gehad: the Google Reader? (met dank aan Stefan Bracke die me tipte).
Spend your time reading what you care about most.
To get started: In the search box above, enter the name of a news source or topic (e.g., new york times or college football) and click "Search for new content."
When you find something that looks interesting click on its title to preview. Click on a subscribe button to get new items from that site whenever it updates.
If you know where a feed lives you can enter the feed URL.
Or you can import subscriptions from other programs. You can export them as well.
Even geprobeerd, en, net als alles van Google, het loopt weer als de brandweer!
Posted: October 8, 2005 09:00 AM (124 words). Tweet
Comment over here or on my
Facebook wall
. . .