« Playing Google Base on the Grid | Index | Big fun in Big Church »
Young Learns Old Tweet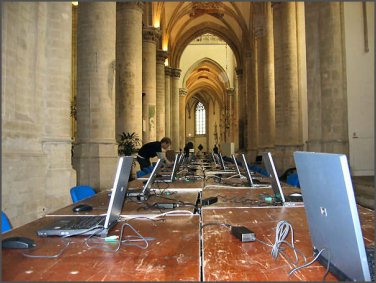 Big fun yesterday, bigger fun today: we've been building a 200 laptop network in a medieval church (The Grote Kerk) in Breda, The Netherlands.

Today it's 'Changing Borders in Cyberspace'. It's the closing session of a series of lessons during with elderly people ('Fifty Plussers' in Double Dutch :-) have been doing internet courses every wednesday afternoon for the last seven weekes. The tutors are high school pupils, who volunteered for the project.
With the laptops running, the waiting is for the grand opening, later today . . .
With 200 old pupils, 200 young teachers, a lot of guests and press, it looks like it's going to be a good party.
The project is called 'Young Learns Old' (Jong Leert Oud in Dutch). Check out their website.
Posted: November 22, 2005 11:16 AM (124 words). Tweet
Comment over here or on my
Facebook wall
. . .