« Andrey Gofman of Andrey Anufrijenko? | Index | Change »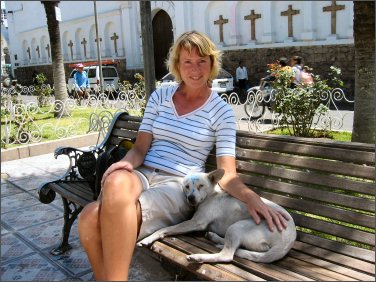 Everywhere, in every country, you have a lot of nice people, and some assholes. I really don't know what kind of guys the three pickpockets are who robbed me of my Digital Ixus in La Paz (hence no pictures of La Paz over here).
Maybe they're very nice guys for their family and friends, and they were professionals for sure; it all happened in a second or so, no knife, no pain, pooofff, boom, and gone they were, with my camera. Well done, boys!
I also don't know which moron spraypainted this little white dog in Sucre, but he doesn't get my respect. Happily enough, she wasn't shy or stressed at all. We called her Sugar, and she followed us for two days while we were in Sucre. We tried to clean her head in vain, but to no avail, it was some kind of car paint, which will wear away eventually.
Sugar was a smart dog, doing the trick that so many stray dogs in South America seem to know very well: get aquainted with non Spanish speaking back-packers, because a lot of them will stroke and feed them. A pity we couldn't take Sugar to La Paz the next day; she probably would have warned me for the bad boys.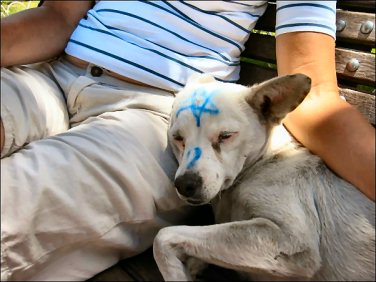 Posted: April 12, 2006 02:55 PM (211 words). Tweet
Comment over here or on my
Facebook wall
. . .