« Sugar | Index | Airport Express streaming »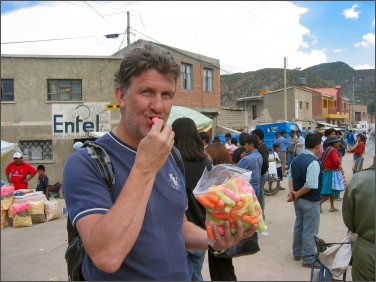 In the eleven years I'm publishing on the net (starting in '95 on the Eindhoven DSE server, switching to krijnen.com in '97), I've mainly done so in Dutch.
Like some other Dutch bloggers I've done the occassionaly post in English, looking, searching, for a definite course on the blog, one way or another. If you Google the blog you will find some of them.
My digital domain has never been and will never be complete, as I haven't been able to blog everything that I've written over the years.
There are some five hundred sport columns hidden in our newspaper digital archives, so maybe I should hire a keyhobbit or typegoat to copy them one way or another to my own database.

During the eighties and nineties I've covered 34 Grand Slam tennis tournaments, 70 something other ATP and Davis Cuppers, not to mention countless billiard and volleybal games, the occasional soccer game, and some other sports.
To how many stories written they count I haven 't got a clue, and as I haven't kept any newspaper prints from my past, they're non existing – and not important at all - history.
My younger colleagues may not realise it, but every key they hit will result in a never disappearing hit, somewhere on the net, for good or for worse.
Waiting in archives or not, I'm not going tho translate my old stuff from Dutch to English, although it would be good exercise.
Exercise, training, is one of the reasons for the fact that I've finally changed my main language over here from Dutch to English: Google and the bigger audience generated through Google is another reason, as are our Australian and American friends.
Exercise and training, trying to achieve one goal: passing (starting in a non-English speaking country – or Australia for that matter- for a native English writer/talker).
I'm sure Graham, my Canadian teacher who undersigned my certificate ' English Writing For The Media' two years ago, will frown his eyebrows on the previous sentence.
But I also know whe will applaude my descision and I hope he will start pestering me again.
Really don't know if my blog is following a trend, but with the current number of visitors and pageviews the money generated by Google AdSense has become sufficient to live in one of the poorer South American countries. In Bolivia you can easily get around on three dollars a day, so here ya go!
Now let's hope the change will result in a forty-bagger from he AdSense program, and we will soon have to decide where we're going to spent our time blogging: back to Marin County, Bariloche, Big Fork, Mount Tamborine or Cerro Cathedral, La Vila Angostura, the Dutch Mountains, of maybe San Telmo, Recoleta or Palermo Viejo in Buenos Aires?
Following the regiment of exercise aforementioned only one post a week will be in Dutch, being my weekly XS column for the newspaper, immediately followed by the English version.
Or should I write XS in English, and then do the Dutch version? Maybe that would be an interesting exercise, with surprising results, I'll give that at try at least once.
Fair dinkum!
Posted: April 13, 2006 12:07 PM (524 words). Tweet
Comment over here or on my
Facebook wall
. . .