« Moving house and the FlashMac | Index | Google Notebook »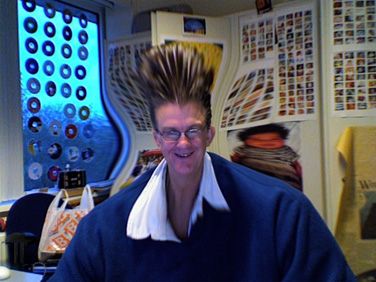 According to some people working with computers is very bad for mind and body.
While I'm wondering if that could be true, I'm fanatically hitting keys eight days a week, for work as well as for fun.
True or not, as someone who has been able, by some luck, to turn one of my hobbies into my job, I shouldn't't complain about long hours.
Although I have to take care not to become addicted, always a problem where work and hobby meet.

Translation @ DutchCowboys
I think I'm socially functioning reasonable well, but whoever who in the real world is skeptical about it, send me a mail, or ping my chatserver.
While I guarantee a reply, there's only one frequent warning signal regarding my computer behaviour: my still growing collection of reading glasses. One by one they'r being replaced by stronger pairs.
Bigger dangers out there on the web. Two warning were issued last week, both from scientific sources: working with older computers is very bad for morale. And old or new; if you're sitting on your butt in front of them for too long, thrombosis is a real danger.
Regarding the old machines I fully agree, and I hope IT and budgeteers are reading with me: providing me with a new machine every six months or so is a very good investment indeed. Health, productivity, office morale, work ethos, everything will be better. Guaranteed ☺
The e-thrombosis showed up in one of my RSS feeds – courtesy Sydney Morning Herald. SMH mentions a story in the European Respiratory Journal, in which New Zealand researchers report a thrombosis, caused by computing too long.
Before you start running away from your screen, the case in question looks pretty extreme, even to my ow standards.
A 32-year old webjunk – a patient indeed – 'who used to sit immobile at his computer screen, at work and at home, for 12 hours a day, and on occasions for up to 18 hours' .
At first he ignored a swollen calf – too busy chatting – became increasingly breathless in the ensuing weeks, and finally collapsed when a massive blood cloth that had formed in one of his leg veins, finally broke off and travelled to his lungs.
While I am very curious about the strength of his reading glasses, I can't help wondering about some factors that might have influenced the research.
For decennia we're been told that drinking too much coffee might be a cause of hart disease. Until someone mentioned another possibility: people who drink more coffee than the average, are also smoking, more than the average.
Someone who sits in front of his computer for 12 to 18 hours daily, hasn't got too much time time left to work on his fitness and his sex life will be completely virtual.
Fort the time being I'm not going to worry about defects caused by doing my work and/or hobby for too long.
What's more: the sun starts shining. I put my Mac to sleep, perfect day to make some miles on my race bike.
Posted: May 15, 2006 10:00 AM (504 words). Tweet
Comment over here or on my
Facebook wall
. . .