« Alpe d'Huez: been there, done that! | Index | No signor, no pinpas por favor »
Look, look, don't buy! Tweet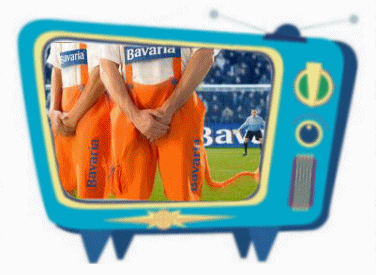 You've bought a digital television set so you can watch the Soccer World Cup in digital quality? Enjoy, the next four weeks. You haven't bought one yet? Congratulations, because there won't be much to enjoy after the last whistle of the World Cup.
On the Bright Blog (also available on paper at your local newsstand) Tonie van Ringelestijn has written a very readable article about the (im)possibilities of digital television. Thank you very much Tonie, because I too have been browsing through numerous screaming advertorials that were dumped on my doormat over the last months. They were all in eye-hurting orange (as you may know Holland is playing in our ugly national colour) and they were all about television; flat, lcd, plasma, hdtv or hd-ready.

in Dutch at @ DutchCowboys
Now you don't have to know a lot about (digital) television, you only need a a bit of common sense to realise it's better to exercise some patience. By the way; the bloody color, apart from being ugly (I'm an active member of the anti-monarchist New Republicans :-), is so persistent that they rather say Orange over here instead of Holland, or National Team.
Anyway, if Orange survives the first three matches (Ivory Coast, Serbia-Montenegro, Argentina) it might take a week or so longer. But inevitable - with or without Orange hysteria - the final will be history, and the very next day - in a country either totally drunk or in mourning, the big digital television dump will be on.
Be aware of the fact that the very same flat television set will be half the price at the beginning of summer, so wait, wait, and wait.
Wait a little more, because for an unknown time, there won't be much broadcasting in digital quality. Fans of niche channels like Discovery hd, National Geographic hd, hd1-nl (a Dutch non-stop channel streaming Dutch and Flemish channels in digital quality), will be alright, but that'll be mainly it for a long while.
Do also realise that long-term subscriptions will be more expensive than the ones that cover the World Cup. Currently there's a shortage of decoders, so it might be tempting to buy some available box that you'll have to replace in a couple of months.
The first time you see a digital television set showing digital quality your mouth will fall open and you will want one. Heavenly quality indeed. But he big question is if the biggest problem will be solved: standardization.
As there's no standardization yet (will it ever come?), you might buy an expansive kit and caboodle with a lot of gadgets build in, with the risk that you'll never be be able to use or see a lot of these options.
The conclusion of my blogging colleague (thanks again): enjoy the flat sets in the shop, but wait, don't buy.
But then again, that won't be too difficult for a lot of my compatriots. After all, salesman all over the world know what the Dutch are very good at, and they even know this classic Dutch sentence: kijken, kijken, niet kopen.
Very well, you got it: look, look, don't buy.
Posted: June 2, 2006 12:19 PM (517 words). Tweet
Comment over here or on my
Facebook wall
. . .