« Look, look, don't buy! | Index | Reckless clicking in the dark room »
No signor, no pinpas por favor Tweet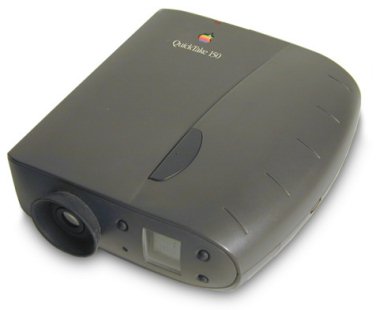 Apple Quick Take, 1995
On march 23, in broad daylight, four pickpockets robbed me from my Ixus 400 on Plaza San Francisco in La Paz, capital of Bolivia. Maybe they were inspired by president Evo Morales who at the very moment was delivering a three hours speech on the same Plaza, in front of 100.000 Bolivianos, about Bolivia's legal and eternal right to a part of Chilean Pacific coast.
After all it was water - though not salt - that number one sprayed in my neck, and when I felt it running down my back, number two pointed to the sky. When I looked up where the hell rain on a cloudless day came from, number three knocked me down, running into my left shoulder, and at the same instant number four ran off with my camera.
Because number two helped me on my feet, and pointed into the direction where number four had disappeared, I didn't realise that number two in fact was, well, number two.

in Dutch at @ DutchCowboys
That information was handed to me later that spoiled day in the office of the Policia Touristica by sergeant Wilfredo Rivas, when he made up my statement for the insurance company back home. At which point I got even more pissed than I already was; stupid simple me, that charming and smiling guy was one of the bloody robbers!
'Si', officer Rivas pointed out smiling, while he collected ten Bolivianos (one Euro) from me, which he deposited in a locker under his desk, 'that's the way they work'. Maybe he's saving the money for a new type writer, as my statement shows that the lower case l (for London) had failed on the one he was using, replaced by a capital I (for Itaca) over the document.
Feeling forlorn without a digital camera in my breast pocket, especially during the wonderful bike trips over the last couple of weeks, I've been web- as well as window shopping for a while for a new Ixus. As the old one was three years old, Canon has issued a number of new releases in the meantime, so which one? After reading some reviews I decided for the Ixus 800 IS, to be released 'in spring 2006'.
Spring came, but Amazon Deutschland (cheap shipping to Holland) had no Ixus 800 on stock until june, and when I finally wanted to place my order I found out I had to live in either Germany or Austria. Scheisse, back to a Dutch web shop.
Some things don't get easier over the years. I bought my first digital camera, an Apple Quick Take, over the Internet in September 1995. Things were pretty simple then, because there was only one web shop: Cyberian Outpost, who delivered fast via DHL. I still have the Quick Take, in pristine condition, in the original box, might be a good idea to put it on eBay, maybe it will pay for my new Ixus.
These days you have more web shops than camera models, and even with websites specialized in checking websites for prices, you need a lot of time to find a combination of right prize and trusted shop.
At first I went back to to the same web shop where I bought the one now probably being used somewhere in Bolivia. It turned out that the shop had gone broke in the meantime, according to a very fast and friendly guy over the phone, only minutes after I've filled in a mail form. He's taken over the complete database form the liquidator, and he's very helpful, but he can't find my original bill. I'm in dire need a peace of paper, any piece of paper, for the insurance company, cause I can't find a paper trace in the rummage in the attic.
One of the reason is some kind of idiot customer mismanagement in Dutch post offices. Because I didn't know the web shop three years ago, I'd chosen for carriage forward, in hindsight a wise decision, regarding the bust. Under this form of delivery (rembours in Dutch) the mailman calls at your door, and you have to pay him cash, although every DHL delivery man in Europe is accepting digital cash for as long as I know.
Anyway, when you're not home, he slips a ticket in your mailbox, telling you he will be back the next day. You can't choose to collect your packet yourself, you have to wait at least one extra day (or three over the weekend, no rembours on Saturday). If you're not home for his second coming, you'll find another red slip, and with that one - and a valid ID, like drivers license or passport - you can go the post office to collect your order, but only the next (next) day.
Finally there, after standing in a cue for ten or fifteen minutes, my camera was there all right on a shelve, but the post office guy - I swear he was ashamed - tells me I can't use my pinpas (Dutch for digicard) for rembours. The Dutch post office (TPG) is owned by TNT, their Postbank (Postbank/ING) is part of ING (Postbank/ING), and my credit card as well as my pinpas are issued by Postbank/ING. Nevertheless I have to leave the cue and the building, to put my Postbank/ING bankcard in the Postbank/ING ATM at the wall outside, pull cash out, go back into the building (I admit they did not force me back into the cue) and hand the money issued by the Postbank/ING ATM to the Postbank/ING guy behind the counter. While I wonder if they've put the money straight back into the very same ATM later that day, I tell you this is The Netherlands, and not Wladiwostok.
I remember the case because I can't find a receipt three years on. My Internet banking shows a withdrawal of 700 Euro on that day and that place, but the camera was only half the price of that, so I must have needed some cash for a constructor or something.
All things are coming to good end now. The insurance company showed up the other day with a was very surprising piece of customer care treatment: the old Ixus- I'd sent them the original box and some spare parts - is completely covered. Only a minor write off. Maybe I should sent Wilfredo Rivas a card from Holland, as his statement, even with all the I's, surely has been of some help.
Which reminds me of his smile when when I asked if I could pinpas the one Euro, payment for the statement?
He seemed to like the word pinpas for digicard, pronouncing it a few times, but alas: 'No, signor Krijnen, no pinpas por favor, only one Boliviano or American dollar'. As the statement was already made up that moment, I've forgotten to include the one Euro at the insurance claim (as well as the brand new one gigabyte flashcard inside the old Ixus), but I'm not going to bother them anymore, being a satisfied customer.
I'm expecting my new Ixus 800, and as the mailman has called on Friday while I was out for lunch, I know when to collect it: tomorrow, Tuesday. He'll be back today, but as I'm not home now, I'll find the slip from the second coming on my doormat tonight.
As I'm not as stupid as you might expect after reading until here, first thing tomorrow morning I'll be pulling cash from the ATM outside the building before entering the cue inside the post office.
Come back in a few days, and you'll find new pictures.. To begin I'll produce some images of my Apple Quick Take, shot with the new Ixus.
P.s.
Two hours later: In the end more luck. While driving back into to my home town on this beautiful summer day, I noticed the driver of a big red TPG van, just hopping out of the drivers seat. Should it be possible?
'Excuse me sir, do you happen to have a delivery for the Van G. 52'? Not surprised at all: 'Yes sir, if you have an ID and the money, I can hand it over to you right now'.
Beautiful, fair dinkum! The new Ixis is much smaller than the previous one, while the display is much bigger. The battery pack is charging, which will take, according to the manual, 2 hours and five minutes.
Two hours and five minutes? Now what?
Does it mean you have to send the battery back when it's fully charged charging after two hours and six or seven minutes instead?
Posted: June 12, 2006 01:17 PM (1430 words). Tweet
Comment over here or on my
Facebook wall
. . .