« No signor, no pinpas por favor | Index | [email protected]!!!!! »
Reckless clicking in the dark room Tweet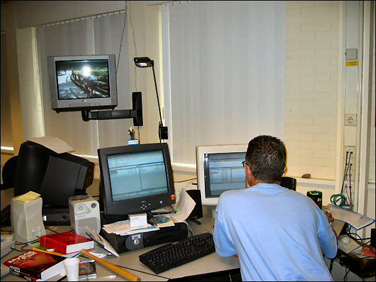 Some people, not infected yet with HIV, apparently kick on either excitement or relaxation– or the two of them, the second state of mind after the first – in dark rooms.
For those who secretly would love to live dangerous, but don't want to play fast and loose their own healthiness, here's a good alternative.
See the Internet as one big dark room, and your machine as your own backdoor. Like Steve Knopper who bought a brand new Dell, and started clicking around like a lunatic in the dark room.

in Dutch at @ DutchCowboys
He describes in the latest publication of Wired what happened to the virgin Dell in '18 days of Reckless Computing'.
After disabling his firewalls and virus-protection software Knopper starts clicking on all forbidden fruits in cyberspace. On all the nastiest-looking spam that friends and relatives sent them on his request. On pop-ups, attachments, on 'Gain Spyware' advertisements, offers form the 'Free Smit Club', MP3s in Arabic, pirated copies of Tom Raider and every possible .xxx, .gif, .rar, .pif and .exe file he could find on Kazaa.
Wherever his cursor accidentally stuck, or got sucked into, Knopper clicked.
His conclusion? 'It seems our Internet overlords are sanitizing spam. If I were to treat my body the way I treated this computer, I'd have yellow fever, bird flu and Alzheimer's.'.
The Dell? Somewhat worse for wear. On the eighteenth day of its ordeal it had to be taken to the Best Buy's Geek Squad.
The owner told the techs that he had 'a bit or trouble with it'. A couple of hours later he got a call: the software was declared a total loss. When they ran a virus scan it started beeping and kept beeping until they turned it off. The hard disk had to be formatted and restored with the system disks.
I love stories like this and I hit myself on the shoulder again because It looks I made a good decision (for a change :-)
Since November 2005 I'm working at home on an iMac and OSX. What I sometimes– almost – miss at home are the troubles and irritations I have to live with every day on my job at the Internet desk of the newspaper.
I've got the fattest Dell over there, and I don't blame the machine, but the XP that's installed on it. I constantly need a program or ten, like PhotoShop, Escenic Web Studio, Escenic Content Studio, an FTP client, Hermes editorial suite, Dreamweaver, TextPad, Outlook Exchange, AutoPhelix, which is based on Microsoft Access, and some more tools.
One of the results is that I have to hard reboot the machine three to five times a day because the one gigabyte memory is full, one way or another and everything just stops.
My iMac at home is a bit boring: it's has been quietly for eight months what I bought it for: quietly doing its job.
Posted: June 16, 2006 10:12 AM (483 words). Tweet
Comment over here or on my
Facebook wall
. . .