« The Mexico | Index | Living in America »
Mexican memory stick Tweet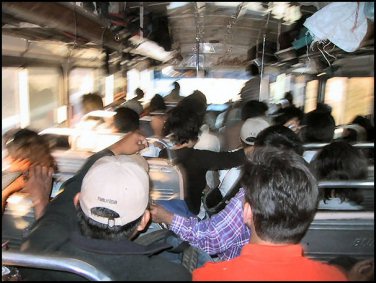 Most companies spend carloads of money trying to prevent their workers computers becoming infected by viruses and spy ware. Expansive licences for anti virus suites, corporate firewalls, nailed up and cemented firewalls, accounts, passwords, and whatever possible to protect.
In the meantime every machine these days arrive with at least two USB ports that anybody can use to connect memory sticks, cameras, iPods or other devices. If these ports are protected virus-wise, there's another danger: data-theft.

in Dutch at @ DutchCowboys

Which reminds me of the border crossing between San Diego and Tijuana. North wise is looks like a well configured firewall, where the traffic jams will only become longer years to come. Some smart Mexicans have opened a nice niche there. They rent out bikes to people standing in a two mile long pedestrian jam. For a few dollars you get a rusty and worn out mountain bike, so, according to Mexican regulation you're no longer a pedestrian an you may peddle your way to the top of the cue, backpack on your back.
What the renters don't tell you is that American officers don't give a shit about this Mexican initiative, so once at the beginning of the cue they point you to a separate area, where you have to wait as long as their mood is bad. Ever seen a laughing American immigration officer?
The southern passage is a completely different story. In San Diego you pay two dollar, board the trolley that covers the twenty miles to the border in forty five minutes, the last two miles or so passing thousands of American and Mexican cars waiting. A jam caused by inefficiency, not by thoroughness, just as computers are slowed down by monitoring systems, anti virus measures, or bad configured firewalls or proxy servers.
You get out of the tram and walk into a lock, on Mexican territory.
Arriba!
A uniform points to a pole. The top of the pole is an enormous button. You have to press the button, and a warning lamp lights on. If its a red one, bad luck, you're to unpack your backpack and get out of some clothes. If it's your lucky day, it's a green light; you're a walking memory stick, at random passing the Mexican firewall.
I wonder how long it will take before an alarm lights up when I out a memory stick in my computer at work.

P.s. Sydney Morning Herald: Superglue used to stop data theft
Some companies are taking drastic action - including super gluing computer connections - in a bid to stop data theft.
Ha!
Posted: July 7, 2006 11:05 AM (429 words). Tweet
Comment over here or on my
Facebook wall
. . .