« Mexican memory stick | Index | The Great Firewall »
Living in America Tweet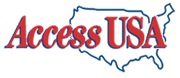 Thanks to Henk van Ess, who showed me the way to the Internet version of a P.O. box in Liechtenstein in his column The Journalist, I'm living in America from now on. Virtual, for the time being, and because an unknown namesake living somewhere else, I haven't got a clue where, let the domain krijnen.us expire, I've registered it on the same day. Earlier his year I was too late when another Krijnen, faster than me, snatched krijnen.eu.

in Dutch at @ DutchCowboys
Two (the us domain) has nothing to do with one (the post address), but maybe I can start a flourishing swap action like that Canadian guy who started with a paperclip and ended with a house.
My new post address required a minor investment which will soon deliver profit. For 132 dollar per year I can behave and shop like an American in America, or like an American on the web. Not only the books I order at Amazon, but also the magazines I'm subscribed too, everything I'm going to buy at eBay, will be send to my new address in Bradenton, Florida.
Someone over there wraps it in a brown bag, labels it as 'wholesale', or as a present, en forwards it to The Netherlands. Benefits rife: as 'wholesale' the value on the green sticker will be usually 50%-60% less than the Retail Value. This results in substantially discounted import fees, that is if Dutch customs bother to have a look at it at all, and an unmarked brown bag attracts less attention than a web shop box.
Second benefit: some web shops, and lots of American companies won't deliver outside the US. No problem no more now. Third benefit: ordering American magazine subscriptions in the US. Cheaper subscriptions to begin with, cheaper shipments to The Netherlands. From now on Wired and Fine Woodworking will cost me approximately a Euro, a sixth of my current subscription.
On my new address in Bradenton my orders will be packed once a week, once a month, or when they arrive, it's all up to me. If I ask my new American mail friend to pack my stuff once a month shipment will be cheaper than once a week or on arrival. I can even accept junk mail.
Just wondering what will happen when I send a change of address to the Dutch taxman :-)
Posted: July 14, 2006 11:58 AM (392 words). Tweet
Comment over here or on my
Facebook wall
. . .