« The Great Firewall | Index | Pay This Post! Now! »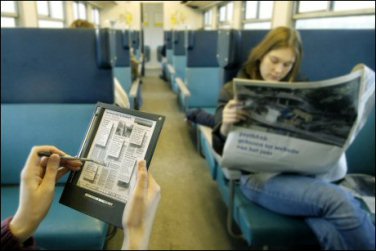 Humility is a virtue. I'll never reach the level of columnist Bob X. Cringely when it comes to computers and networking. As a matter of fact I also have to pass when it comes to quantity.
In his july 20 column - They Wrap Fish, Don't They? - he mentions he has been writing for the World Wide Web since April 1997, which is about as long as anyone on continuous duty can claim: 480+ columns, totalling just over 800.000 words. As it turns out, Bob X. isn't shy of comparing himself with a higher level, pointing out at least one version of the King James Bible consists of 783.137 words. (I assume there's a digital version).

in Dutch at @ DutchCowboys
Let me count. Since November 1995 I declare all kinds of things about computers and Internet, every week, almost continuous. They did quiet me for four weeks a couple of years ago because of paper-cuts, but they couldn't stop me writing and publishing on the website.
Browsing my archives I'm counting almost 500 columns. On a couple of occasions I had to pass because of bad planned public holidays. Word counting is a problem here; over time the column has moved a couple of times to different pages and sections of the newspaper, directed by editors and lay-outers, filling different spaces. Editors and lay-outers are the same everywhere; if your words don't fit in their space it's their scissor that cuts wherever they like.
Wonder what my average of words per column is; the current column bosses regimen is approximately 360, but until a couple of years ago I was allowed twice that quota. With an average of 250 I reach 250.000, so I have to type on at least some years before I'm level with King James.
What matters is if and how often all those words have been read. Cringely calls the Internet 'the idiot savant of journalism'; supremely good at a thing or two and not at all good at anything else. His belief confirmed somewhat by a recent study from the University of Notre Dame: news stories survive on the Web for an average of 36 hours before half of their eventual readers have read them.
Almost at my quota I can't go on over here, bu Bob X. is afraid that content is hardly read at all, in a world where only heads are quickly scanned.
Tell me: did you finally arrive over here, at the very last sentence?
Posted: August 1, 2006 11:42 AM (412 words). Tweet
Comment over here or on my
Facebook wall
. . .