« Pay This Post! Now! | Index | Is Google a Mr. of a Mrs? »
Smuttiness in disguise Tweet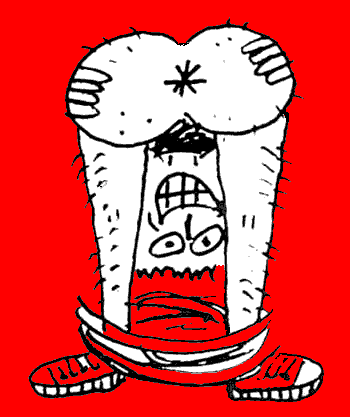 We're seeing quite a lot of different things things during an average shift of website publishing, editing, moderating and deleting.
Some article comments are little jewels from visitors who earn a job as a journalist, to be moderated next to the rubbish from the full time shit stirrers, who we'd rather ban from the website forever.

in Dutch at @ DutchCowboys
Because we've chosen for a system of validation, all comments have to be moderated. Computers cannot – yet – moderate, but with a couple of hundred of comments a day, we can't spend the time we'd actually need to do the job proper.
As long as I can remember letters tot the editor from our readers, meant to be published on paper, are almost always shortened, as well as checked for typo's. Apparently grown from a dualistic approach: the papers face, as well as from the letter writer, is cleaned before it's littered.
On the Internet everything is different. Where the first condition for publishing in the newspaper is a signature with a checkable name and home address, on the website filling in two fields is enough; name and email. He who uses [email protected] is blocked – if we're not moderating in a hurry – but everybody who uses a normal looking email address, passes our censors.
That is, if his text is decent to some level, next to some other considerations. Typos and error in style are not edited or improved: no time. Should we decide to do so, we'd need umpteen extra editors, in these hard times.
A bonus for this way of working are the sometimes bizarre discussions in the threads. Someone who has produced a comment is sneered at by someone who signs as a language teacher, followed by a third one who points to errors in the teacher's use of language.
Our problems are very minor compared to a site like YouTube, where the most popular new videos on the Internet are published every day. Thirteen million visitors per month, 50,000 new video's every day.
All those video's should be moderated by humans, because the porn spammers have discovered YouTube. Everything should be viewed from the beginning to the end, because the smuttiness is in disguise. A video starts a child birthday party and it's up to your imagination how it ends.
A YouTube video is bound yo a maximum of ten minutes, and the average is 3 minutes, so YouTube should spend 2500 hours per day on moderation.
They don't do that because it's impossible, so the problems are predictable.
Posted: August 18, 2006 09:43 AM (421 words). Tweet
Comment over here or on my
Facebook wall
. . .