« Smuttiness in disguise | Index | Finally Finishing »
Is Google a Mr. of a Mrs? Tweet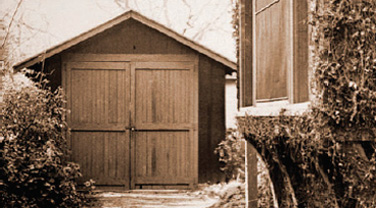 The HP Garage is California Historic Landmark No. 976 — Birthplace of Silicon Valley. (1939 photo)
I've asked the question on the Movable Type Community Forum, some time ago, when my server almost collapsed under comment spam form porn- and viagra sellers: male or female?
While the thread in question, like everything else that ever will be written in the future, can be found by Google in a second: Is a server a he, or a she, like a ship?

in Dutch at @ DutchCowboys

I've never have maintained a relation so long without having seen her – or him. In 1999, while spending eight months of a sabbatical year in San Francisco, we drove to an address in Napa, right in the middle of the vineyards north of Marin County. Somewhere over there, was my guess, krijnen.com was living, because that was the address where the Tabnet bills came from.
When we noticed it wasn't a server park, but some cubicles filled with young people phoning or working a desktop, I decided to forget about asking to see my server (they'd probably called a psych and the cops). The rest of the afternoon was better spend, doing what most people come to Napa for: tasting wine.

In hindsight we've set a trend then, because in 2006 nerds are doing day trips form San Francisco to important benchmarks in computer history. Like the main office of Apple in Cupertino, the Google campus in Mountain View. And the garage where Hewlett en Packard started playing with transistors in 1939, regarded as the birthplace of Silicon Valley: 367 Addison Avenue, Palo Alto.

Since Wednesday Mountain View, thanks to Google, is the first place in the world completely covered under blanket of wireless Internet. Through 380 hot spots, that serve 72.000 people on sixteen square mile with sufficient bandwidth.
You get free access through your gmail account, and if you don't have one, you can get one, for free.
Mountain View is a test for the first big free wifi network Google is planning to set up: San Francisco, forty miles north. The inner city alone at least ten times bigger, so at least a couple of thousand hot spots, and a few million users, slurping bandwidth.

The question is what the consequences are for the classic providers of Internet access. How to compete with Google.
By the way; is Google a Mr. of a Mrs?
Posted: August 22, 2006 08:02 AM (400 words). Tweet
Comment over here or on my
Facebook wall
. . .