« Is Google a Mr. of a Mrs? | Index | The Black Aldis »
Finally Finishing Tweet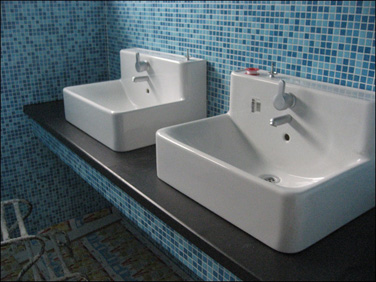 Three years and two months gone, one more week to go: next Saturday we'll be moving into our old house. The renovation took more time than originally planned, but reasons galore. Beforehand we did not know we were going to South America twice during the renovations – three months last year, two months this year. But as the lease on our temporary living was extended twice without asking, (and for the last year without any rent to pay) there was no need for hurry.
Having said that: there is now! Next Friday gas, water and electricity will be cut, next Saturday we'lle be moving with a little help from some friends. Demolition of the block at Speelhuislaan will be starting Monday September 4.
Are we ready and done? Well, almost. Yesterday and today at old Van Goor the oak flooring is polished and covered in high gloss polyurethane twice. It looks brilliant, but you can smell it two blocks upwind, and we're not allowed to step on it till noon Saturday. So we spend Friday afternoon sorting out stuff that has been unpacked on the attic for three years.
I've dumped four boxes of old computer books (Programming Pascal 1980, Dos For Dummies, PHP, MySQL, Windows 95, lots of Linux and BeOs manuals and so on) at a local charity, as well as bags full of old laptops, 8 Mb flash cards (two pics form my current Ixus would fill them) cables, plugs, ISDN and ADSL modems, and much more. Feel much better now that it's all gone.
Next week finishing of the floor to ceiling colonial cabinets I've build downstairs, and painting, lots of painting. And some more trips to the junkyard, I'm afraid.
Check out the Finally Finishing Album in my ImageFolio.
Posted: August 25, 2006 04:28 PM (293 words). Tweet
Comment over here or on my
Facebook wall
. . .