« The Black Aldis | Index | Radio rediscovered »
Where Are The Pizzas? Tweet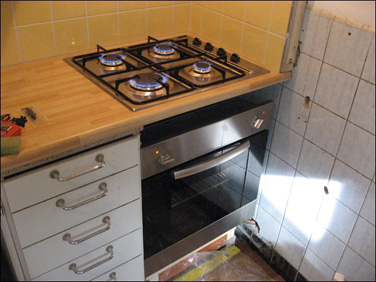 We've got fire, we've got an oven. Now where are the pizzas?
Talking about manuals; the installation manual of my two brandnew toiletseats was incomprehensible to begin with.
On top of that somebody (number 242) sticked a note on a plastic bag filled with bolts and nuts that said: 'this box contains two extra rubber plugs, but we do advise NOT to use them'.
I couldn't find the rubber plugs anywhere, but I did have a good seat when I finally could test one of them. Forgot to shot a pic, so have a look at my new cooking area instead. After all, before being able to test toilet seats you have to cook something, right?
Two more days of cutting boards for the cabinets, sanding, painting, cleaning, and then, finally . . . saturday morning moving . . .
Posted: August 30, 2006 11:43 PM (134 words). Tweet
Comment over here or on my
Facebook wall
. . .