« Docs & Spreadsheets: almost Google Office | Index | Start (video) blogging, now! »
More Google News Tweet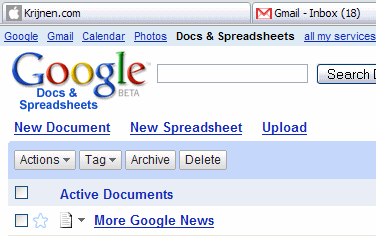 I've noted yesterday that Writely was definitely gone, merged with Spreadsheets into Google Documents & Spreadsheets, in which this post is written.
Late yesterday night (CET) a new little linkie when I logged into Google Groups: 'view in Google Beta'.
Click and see how the GoogleGroups interface soon will be looking - maybe this switch is definitely too while I'm writing this - like the recently made over RSS reader.
Wait folks, cause that's not all there is today . . .
Next star on the Google heaven: another little link this morning in Documents & Spreadsheets: Photo.
It leads tot picasaweb.google.com. A web that was already there for a couple of months, but now they've started to integrate it into other services like my personalized Google Start Page, and probably more of the many other Google applications I'm using right now.
On top of every possible tap or page - when logged in - in Google Search, in Gmail, in Calendar, in Photos, in Docs & Spreadsheets, in Groups, in all my services are links to - well, you guess it - Google Search, Gmail, Calendar, Photos, Docs & Spreadsheets, Groups, in all my services. The waiting for Google Office can't be long anymore.
Another new thing is a Picasa up loader for my Mac.
Uploading top Picasaweb could already be done from a Mac, cause in the latest iPhoto sits a little button 'Picasa upload. But as form today there's a beautiful new app for the Mac. All you have to do is click and drag abunch of pictures form a Finder window into another window and you're done and published on Pcasaweb..
Just like I did with Helenes new Black Puppy
Posted: October 12, 2006 03:36 PM (270 words). Tweet
Comment over here or on my
Facebook wall
. . .