« The biggest rubes, boobs, and noobs of 2006 | Index | Her name is Wikipedia »
Where does Santa live? Tweet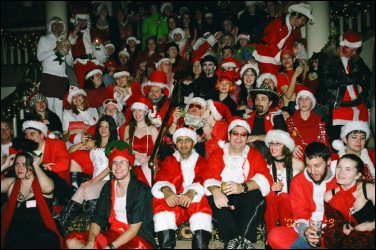 Every Dutch kid knows where Sinterklaas is living, but where does Santa Claus reside?

Your answer doesn't have to be the right one, because there are quit a number of different Santa's and Xmas cultures. In the US the most given answers will be that Santa lives in Alaska or on the North Pole, but in Finland they know better.
Thanks to a worldwide, very secret society of postmen, who forward every letter addressed to Santa Claus, to Rovaniemi in Finnish Lapland.
All letters that have a return to address on the back, are answered by Santa Claus, written by volunteers for the Tourist Board in Rovaniemi. Nobody in a right state of mind goes there between November and may, when everything is covered by at least three feet of snow, but in summer its time for return of investment.
If only a percent or so of all people answered by Santa visit Finland, and only one percent of those go north to Rovaniemi, all camping sites, hotels and guesthouse are full during the midsummer nights. It does help that Fins are hard rock and goth metal fanatics, as we all know since the last Euro Vision Song Festival; in summer it's also time for the Rovaniemi Rock Festival.
While they're working hard over there to keep alive the dream of their most famous hard rocker - the one with the red hat and the long white beard - letters to Drobak in Norway, Dalecarlia in Sweden, or to Greenland and Alaska are probably answered too.
Then there's yet another Santa, but this one hates cold feet, and writes back from Caesarea Mazaca, somewhere in Turkisch Cappadocia, but he signs as Saint Basil.
I think that L. Frank Baum's Santa is the real one. The writer of 'The Wizard of Oz' tells us in 'The Life and Adventures of Santa Claus that he's living in 'The Laughing Valley of Hohaho'. That must be the real one, because it's the only place - and I've tried them all - where Google Earth leaves me in the cold.
Posted: December 25, 2006 12:00 AM (342 words). Tweet
Comment over here or on my
Facebook wall
. . .