« Where does Santa live? | Index | Revolution: (half) live or play back? »
Her name is Wikipedia Tweet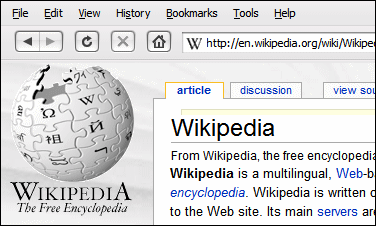 As I haven't produced any predictions at the beginning of this year, we don't have to settle anything. But I have to admit I was wrong about Wikipedia. I've written with at least some scepticism about the online encyclopedia - and all open directory systems - but in 2006 I've been converted: Wikipedia has become my favourite website.
If you haven't discovered the online encyclopedia yourself: find out the differences yourself. Go Google, enter a keyword that has anything to do with what you're searching, and start searching.
And start searching all over again, within the results produced by Google. Most of the time, it's takes a while before you've found what you're looking for, that is if you find it.
Now do the same in Wikipedia. Right, that's what I mean.
Of course there will remain things that Google does so good and fast that there's no need at all to try somewhere else.

Valuable tip for the visitors of the website of BN/DeStem, looking for an article published in our newspaper: don't try this at our own search engine, but use Google instead.
Using the question 'breda site:bndestem.nl' Google comes back within 0.3 seconds with 87.900 articles in our database containing the term 'breda'. Here Google is besting us everywhere, in quantity as well as in quality.
But if you're looking for dedicated information about any certain subject, nicely put together in a well-organized summary, linked to other relevant articles, Wikipedia isunbeatable.

It's getting even better. As the search in Wikipedia is already performing up to - well, Wikipedia - before long Wikiasari will be on the air.
It's gonna be a 'human-editable search engine-project', with Amazon as partner.
It sound very promising, and I think they will deliver, although to Wikpedia: 'Wikiasari is not and will not be the name for the free search engine we're developing'.
Whatever the name, the first three results will come straight from Wikipedia, and I think those will do in at least nine out of ten. After fifteen years I'm in love with the net again, but now her name is Wikipedia.

Posted: December 31, 2006 11:59 PM (346 words). Tweet
Comment over here or on my
Facebook wall
. . .