« The 80/90 Zeng Rule | Index | More on Google Maps »
Reminiscences of november 1985 Tweet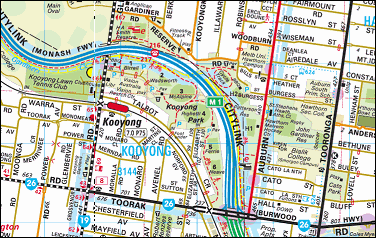 Click map for Kooyong at GoogleMaps
My dear Australian friends,
Uncle Leon has has enjoyed his one minute of fame on national television.
If you miss some of the double Dutch over there; as even you can probably guess after having watched the video, it's all about soccer. A Dutch television magazine produced an error in an article about a a soccer match way back in 1985, and I'd send them a kind email about it, pointing out it deserved an 'undo' in the next issue. When they published it, as a letter from reader, I got a call from another television channel. Like in Australia, channels in Holland just love to broadcast about errors made by other media.
I remember that match very well for a number of reasons: it not only cost Holland a place in the Mexico World Cup in 1986, but it was played on the night - November 20 1985 - before I went Down Under for the very first time. After having made acquaintance with Graham, Animal, Damian, and some other crazy roos (shearer Ferris!), a few months earlier in Portugal. Another reason to remember: the next morning - while I was on my way to Schiphol Airport - our newspaper, with all the stories about the soccer drama, couldn't be printed nor delivered because of a big time crash in the Harris computer system.
Coïncidence had sent me to the main computer room that Wednesday afternoon, because I had a problem with a plug on the Olivetti M10, my second laptop computer of many in 25 years. Being there I enjoyed a rare moment of prescience. When the system engineer at service handed me a new plug, I noticed that one of the two Harris disk towers of our old mainframe Harris was producing a very soft high pitched sound (twenty two years ago my hearing was pretty perfect). I told him the note reminded me of my vacuum cleaner before is almost exploded because of a run out bearing that finally broke.
He looked at me the way nerds look at non-nerds, and didn't even bother to answer. So I shrugged my shoulders and went home to pack my laptop and my bags.
Only three days later, having set up office at Kooyong to cover one of the last but one Australian Open on grass, and testing my telephone line, someone told me about the big crash. I was pretty proud hearing the details: when the bearing broke shards flew around, and completely destroyed all disks on dev/#1. Firing up the back up procedure dev/#2 failed, and that was the end of the newspaper of November 21, 1985. Without the system the etching plates couldn't be processed, so the huge printing presses were waiting in vain.
On the phone in Melbourne I enjoyed a glorious day already, being very proud, having navigated the 30k from Daisy Street, Essendon to Glenferrie Road, Kooyong, in the old Ford (Fairlane?) that Graham had inherited from his granddad. I'd even succeeded in staying almost all the way at the right side of the road (left), as you and the Poms call the wrong side - the left - the right one.
More memories; on my way from Amsterdam to Tullamarine, with a stop-over in Athens, in the back of the Olympic Airways 747, I'd become good friends with some members of the Australian soccer team, who had lost 2-0 in Glasgow in the Intercontinental Play-off on the same night Holland blew it's World Cup stage in Rotterdam.
The Aussies still had a chance, to loose it two weeks later in Melbourne when they produced a goalless draw on their home turf in Melbourne. Nevertheless, Olympic Airways probably will remember the flight with the Australian Soccer team and a Dutch tennis writer for another record: all galley kitchens were completely out of beer half way between Athens and Singapore. The three hundred Greeks on board, on their way to Melbourne, the second biggest Greek city in the world, couldn't care less: they were smoking black unfiltered cigarettes, and drank Retsina, Ouzo, or Raki.
Now I'm not sure if booze was the main reason it would take Australia another twenty years to make it to the World Cup, but I do know a Dutchman - Super Saint Guus - finally delivered you there. I'm pretty sure soccer players don't drink where Hiddink rules, but sex under Guus is no problem. As trainer coach of Philips Eindhoven (PSV) in the nineties he used to let Romario sleep in every day after every one night stand, while all other players were training hard out in the cold.
His teammates didn't mind as long as the speedy little Brazilian kept his scoring average on the pitch on the same level as in bed: at least one girl per night, or a few per day per day.
(Romario kept on producing sperm and goals galore, but as a reward for Hiddinks wisdom he would score the first goal in the quarter final of the 1994 World Cup, in Dallas, where Brazil eliminated Holland, under Hiddink).
As I didn't get the chance to tell this story to the VARA camjo (Steven Albers was a very nice guy, but his hard disk would probably have crashed) I'll blog it.
Kooyong 1985 brought me lots of luck. In his first round Dutchman Michael Schapers beat Boris Becker, who'd risen to fame five months earlier, at 17 years of age becoming the youngest Wimbledon champ. While some twenty five German tennis writers were crying out loud 'Verdammt' or 'Scheisse', my phone started ringing. As I'd travelled to Australia on a free lance trip, I was allowed to work for more media, so I did some television interviews with Schapers, and wrote some more articles for other Dutch newspaper and tennis magazines.
Although Schapers would made it all the way to the quarter finals, with every win making my trip more profitable, we'd never become friends. He never was good at receiving criticism in any form, and probably didn't like my style of writing.
The Monday after the final, in which Stefan Edberg beat fellow Swede Mats Wilander in three straight (4, 3 and 3), I took a Greyhound north, to explore the immense country continent for the first time of nineteen more come backs to follow.
'By cripes', the immigration officers in Melbourne or Sydney asked me on some arrivals, after having checked my visa and passport, 'why don't you come and live here? It would save ya a lot of time and money!'
Who knows? Maybe later, retirement at the Gold or Sunshine Coast, or enjoying European summers, to go down to South America, of Australia in our winters, blogging from there, why not?
See ya later, guys!

Posted: January 8, 2007 01:06 PM (1124 words). Tweet
Comment over here or on my
Facebook wall
. . .