« Reminiscences of november 1985 | Index | iPhone, YouPhone . . . . »
More on Google Maps Tweet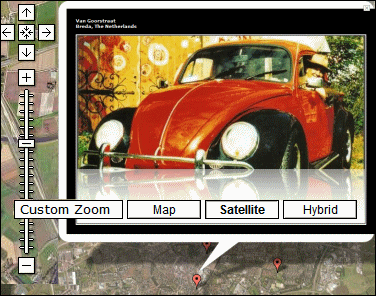 I just love GoogleMaps! Great what you can do with it, when you get your API key. It took me a while, and some hard work, but finally I'm getting somewhere.
So far I've set up three different maps:
a Big Full Screen Google Map (looks fabulous on my iMac),
and a Geocoder.
Couldn't have realised it without the Google Maps API Tutorial from Mike Williams, the Google Maps API Version 2 Documentation and Mapki.
Check them out, click on te markers, try the Custom Zoom, made possible by the Java Script written by Andre Lewis,
Click the markers on - or next to - the map, and see what you can do with CSS or HTML - even embedded video - in the pop-ups.
I've also begun to expirement with feeding GoogleEarth KML files to GoogleMaps, but I haven't found out yet how to feed KML to the URL of one of my own maps.
Posted: January 9, 2007 02:53 PM (153 words). Tweet
Comment over here or on my
Facebook wall
. . .