« iPhone, YouPhone . . . . | Index | The B-word »
Badonkadonk and Death by Milk Tweet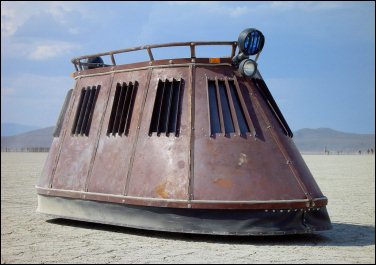 Do not try this in Holland, because before you're around the very first street corner it will be confiscated by grumpy men in black or blue, but in Britain or the US it's somewhat easier to drive your own soapbox, powered by something that roars.
You have to pass some kind of MOT, and if brakes, headlights and steering are doing a decent job you receive some kind of green slip and you're on your way. One should try to emigrate to the US for less.
I doubt if the Badonkadonk Land Cruiser Tank is 'street legal', because on most pictures I can find, it's badonkabonking around in the Black Rock Desert in Nevada, during the Burning Man Festival. However, if you're prepared to pay 20.000 dollar, and you have a very big back garden, you can badonkadonk in in Holland. She's for sale on Amazon.
Burning Man is one of the festivals I'll hope to visit one day, the other one being pumpkin chunkin. Two great things I've already written about ten years ago, when the web was mainly some manuals and articles, accompanied by small and blurry pictures.

A more mature Internet has made these kind of things so much more fun. Bandwidth galore, photo albums, slide shows, YouTube, Google Video, and more, much more. Go Google for 'badonkadonk', 'burning man' or 'punkin chunkin' and you will see what I mean.

'Probably next year: the first National Dutch Championship of Pumpkin Shooting. After all, all it took to bring TrekkerTrek to the Low Lands was an article about Tractor Pulling in a Dutch farmers magazine'.
I wrote the previous two sentences in 1997, but then years later the first pumpkin has to be shot yet over here.
Carbide shooting on the other hand, a classic Dutch tradition, was almost defunct, but is hot and cool again. If you have been in the countryside in December and you haven't heard the deafening kabooms of the big milk cans, better hurry to a ear doctor.

Google 'carbid shooting' and the first hit is a nice Dutch website, all in English: 'Death by Milk'

A very lively culture, coming to Brabant from the far east Achterhoek.
I'm afraid you have to need a bit of patience when you wanna become a carbide shooter. At least eleven months, because most villages and cities have carbide rules these days: only on the last day of the year, on dedicated meadows.
Enough time to search a heavy duty milk can, and to do some research.
Posted: January 19, 2007 04:22 PM (420 words). Tweet
Comment over here or on my
Facebook wall
. . .