« H.264 in every Mac? | Index | I can fly! »
Early spring Tweet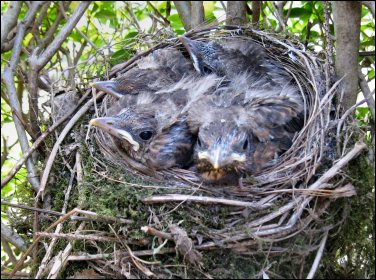 It looks like an early spring over here in Holland. It's april 10 and those four young blackbirds in our back garden look like they're ready to jump out of the nest any moment. The nest is build on exactly the same spot in the hedge, like each year since we're living here, but I doubt the first nest of the season has been this early before. Last year was a bad one, as two out of five died in the first week, and the three survivors left the nest too early, only to fell prey to the magpies.
Posted: April 10, 2007 02:02 PM (99 words). Tweet
Comment over here or on my
Facebook wall
. . .