« We all love lovely Kelly | Index | Internet in Italy: passport please . . . »
Down Under Tweet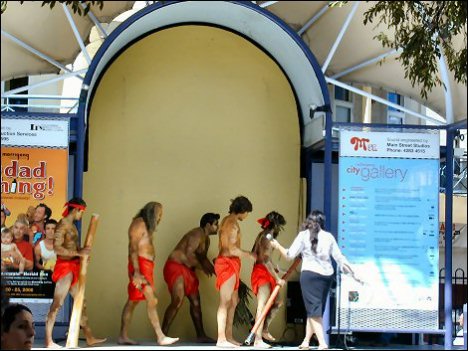 Aborigines performing at Crown Street Mall, Wollongong. credits: Wikipedia Commons.
Down Under in the news; a tragic shooting, with some luck survived by a Dutch backpacker who became a hero, something that could have happened anywhere.
For a few days it took away international attention from a much bigger tragedy: the Australian Aborigines.
I like to think know something about Aborigine history. But even after having been there twenty times, having travelled every corner of the big island for a total of more than three years, I still don't get it. Even worse, the more I read the Australian media about the Aborigine problems, the more books I read about Australian history, the less I understand about the Aborigine soul.

Australian troops and policeman have begun to protect Aborigine children from abuse in the communities up north. How easy to cry out loud about the Australian government.
While this time nobody has used the words sterilization or deportation, Australian prime minister Howard and his political friends are accuses of paternalism and racism.
What else should they do, I'd say?

As Howard himself stated this week in a speech tot the Sydney Institute: In our rich and beautiful country, there are children living out a Hobbesian nightmare of violence, abuse and neglect. Many are in remote indigenous communities in the Northern Territory. To recognise this is not racist. It's simply an empirical fact.
Last week Howard announced the Commonwealth would push aside the Northern Territory Government and, with extra police, doctors and the military, take control of about 70 Aboriginal communities for at least five years.
Under this plan plan alcohol and pornography would be banned, every child under 16 would have a health check, welfare payments would be withheld. All this in an effort to stabilise the communities and stamp out the widespread child abuse detailed in the recent report Little Children are Sacred.
The real Aborigine tragedy is that they don's succeed to take their own fate and their own responsibilities in their own hands. And not to use all the extra help they've gotten over the years, the millions of dollars waisted, to raise themselves.
Yes, you can close all pubs from Darwin to Mount Isa every thursday, so that the wellfare payments aren't immediately spent to alcohol. The only difference is that everyone up there is pissed and fighting on friday.
He who has better idea's than John Howard, speak.

Posted: June 26, 2007 01:27 PM (403 words). Tweet
Comment over here or on my
Facebook wall
. . .