« Coming soon: VWApple iCar? | Index | iPhone sells well Down Under »
A Yellow Submarine iPod? Tweet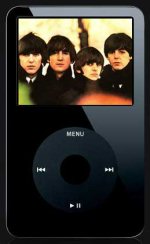 Can't wait to buy a new iPod? Wait, cause Apple is about to launch a new family of iPods.
Yesterday Apple has distributed invitations to a September 5 event in San Francisco, but as usual gave no clues as to what it would be about. I got an invitation from Apple Holland to join them to the usual parallel event in London, where the Steve Jobs keynote will be streamed live on a big screen, but pity, I can't make it this time, due to other obligations.
'The product announcement is likely to include a full line-up of revamped iPods with significantly greater functionality at current price points, including the much-anticipated full-screen video iPod', Goldman Sachs said in a note, urging investors to buy Apple shares. Overnight Apple shares rose five percent.
Is is expected that Apple would launch wide screen, multi-touch iPods. It's not so hard to predict to what this will lead inevitably: a cross between an iPhone and a video Ipod, Google Earth and Maps probably pre-installed.
Of course this thing will arrive in the near future, but only Steve Jobs know when. Apple could build the bloody kit right now if they wanted to, but why hurry, when one can sell millions of different sub-versions during the next two or three years?
One more thing, Jobs shall say next Wednesday; we will be selling everything Beatles from now on; music, video's, films, DVDs, and other fab four paraphernalia.
Like a Yellow Submarine iPod maybe.

in Dutch @ DutchCowboys

Posted: August 31, 2007 12:28 PM (251 words). Tweet
Comment over here or on my
Facebook wall
. . .