« Is Murdoch really a God botherer? | Index | Het Journaal »
Rolling Out The Mojo: the Nokia N95 Tweet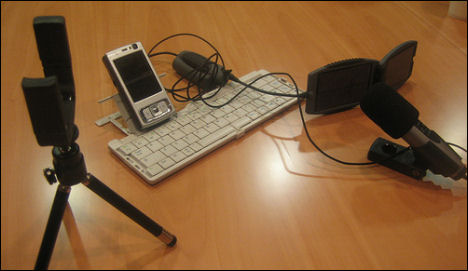 Apparently we're not the only journo's experimenting with the Nokia N95. Nine reporters on our newspaper are using the Nokia to shoot pictures and photos to accompany their news stories. I know some other newspapers and public broadcasters in Holland are ordering big batches of the Nokia.
A Reuters reporter will this week embark on an experiment to report the arrival of Tesco in the US with little more than a Nokia N95 mobile phone. The news agency has been using the 'mobile journalism toolkit', developed through close partnership with Nokia, for a couple of months now, but mostly to have TV reporters shoot video for the web - now a text reporter will file to the wire from LA and Las Vegas using the handset and a Bluetooth keyboard.
Full story: Reuters Mobile Journalism Roundtable: Rolling Out The MoJo, Planning For HD Mobiles
Check out the video:
Posted: December 6, 2007 03:17 PM (147 words). Tweet
Comment over here or on my
Facebook wall
. . .