« Leopard is spinning | Index | Video for newspaper websites on a budget »
We knew it was coming: Google Print Ads to Europe Tweet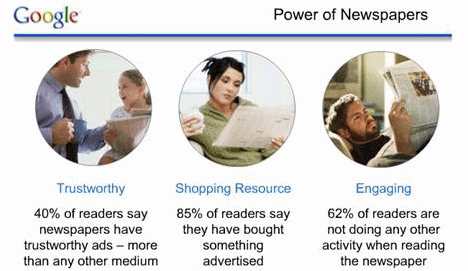 We knew it was coming: Google Print Ads to Europe
According to The Times, Google is momentarily chatting up 'several' British newspaper publishers in the hopes of extending its Google Print Ads program across the Atlantic.
James Ashton in The Times: This expansion will worry bosses of rival media companies, including ITV chairman Michael Grade, who has already called for greater regulation on the fast-growing Google.
Cade Metz in The Register: When we asked Google if this is true, the company told us "we won't be able to comment on if or when Print Ads will be launched in the UK." But they like being coy.
Click on the image on top of this post or or on this link: Welcome to the Google Print Ads for a Demo (Yes, by Google) of the Print Ads.
Link:
Full list of American Newspapers participating in Google PrintAds
Posted: January 9, 2008 03:16 PM (146 words). Tweet
Comment over here or on my
Facebook wall
. . .