« Je beste vriend? | Index | Geert is net een jukebox »
An automotive eschatology Tweet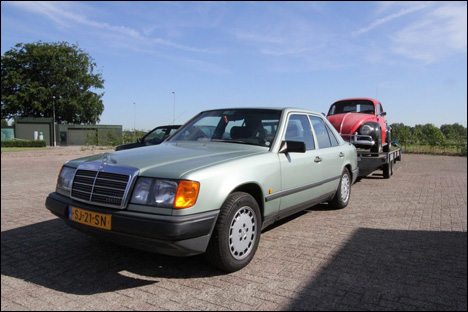 Mooie special in de nieuwe Wired, over de Apocalyps: Aspects of Doomsday that we cover this month.
De vraag wordt gesteld welke survival kits je meeneemt als de Vier Rijders de wereld als een puinhoop achtergelaten hebben. Welke klassieke Zombies de meeste kans maken na Doomsday. Welke spelletjes, welke films, welk voedsel, hoe bouw je een safe-house?
Welke voertuigen? Vier stuks komen in aanmerking:
Schip: een USS Freedom LSC-1.
Solar Car: een Tokai Challenger.
Motorfiets: een Suzuki DR650
Auto: Mercedes Benz W124 300D.
A Benz might seem a tad bourgeois, but the 300D, with its bulletproof engine, is an exercise in automotive eschatology. Find an abandoned McDonald's, pour the fryolater oil through a few layers of coffee filters, and fill 'er up. After a long day of chasing giant flying stone heads across a frozen wasteland, you'll really appreciate the heated leather seats.
Ha! Heb ik het niet gezegd? Best car ever build!
;-)
Posted: September 25, 2010 12:52 PM (152 words). Tweet
Comment over here or on my
Facebook wall
. . .