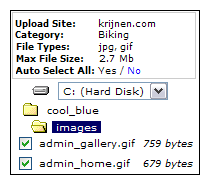 I'm still working on my new version of ImageFolio. After having been running one instance on my own domain, and having installed eleven licensed copies on one of our newspaper servers, I was very familiair with the 2.1 version that I've been working with since january 2000, when I started working with ImageFolio. Too familiar, is seems; working with IPTC, the batch upload mod and the multi user mod requires a totally different approach, a different way of thinking in some areas.
The batch upload and resizer works flawless; so good that when I have to make a new photoalbum for the newspaper, I batch upload the original pictures to my 3.1 version and when it's done, I download (and delete) the server side resized mages and thubmnails, and upload them again to photoalbum server, where we're still running 2.1. Beats thumbnailing in Fireworks or Paint Shop Pro for sure, cause all you have to do is upload and that's it.
Still looking for a server side script – or a local running application – that can read and import the captions from the old flat file database and write them as PTC tags. Next place to go: the ImageFolio message board.