« Breda to Århus | Index | Let's all MoveableType »
The White Site Tweet
It's an old idea of mine - copy, steal or borrow it if you want: the ultimate white website. By the way: are there überhaupt new ideas, or is any idea, true or not, honest or not, a rebirth? Let's google the net for the string "white site". Hmmm, about 5800 hits, so the idea, mine or not, was never new. White sites cover a lot of ground: Bryan White websites, a Great White Site about, you guess it, great white sharks, a Single White Site about Bridget Fonda, landscaping sites, a government site in Singapore which sells white sites, blank spots in the city, to developers.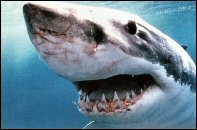 I expected Aryan sites too, who predict stupid things about the superiority of the white race, but a quick check didn't show them immediately. There's a white site about magic, but most of the white sites have a lot of colour in their design, because in those cases the term white has nothing to do with the colour. I haven't been able to find another thing i suspect there must be out there somewhere: a complete white site. Of course some joker has made one, where everything is white, background as well as the fonts and the images, just for fun. Can you find it?
Posted: July 22, 2003 03:55 AM (211 words). Tweet
Comment over here or on my
Facebook wall
. . .