« De volgende worm heet MyAndrew | Index | Another way leading to Rome »
What is Web Design? Tweet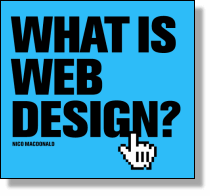 Bumped into a nice looking book about webdesign. Looked like a lonely fish out of the water in the window of a book shop that sells mainly contemporary and classic literature. They had a smell segment of books about design and architecture as well, but this blue eye catcher turned out to be the one and only book in the whole shop about computers or webdesign.
After a short browse I bought it, might come in handy for the restyling project I'm busy with the next couple of months. Not for this website, which is of course, a never-ending project of changes and updates, but for another one, and I'm not allowed to give further information for now.
I'll be back with a review in a couple of days ...
Website writer: whatiswebdesign.com (RotoVision, 2003) ISBN 2-88046-686-5
Posted: February 8, 2004 04:49 PM (136 words). Tweet
Comment over here or on my
Facebook wall
. . .