« De bandbreedtedief | Index | Golddiggers »
A week in Germany Tweet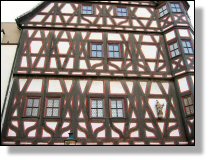 We've spend a wonderful week in Germany, somewhere halfway between Kassel en Frankfurt am Main. Beautiful area, only a few tourists. Blue skies, freezing cold, perfect hiking weather. On our long walks up on the Eisenberg and other spots in the Knoll Mountains we didn't see any humans for hours. But, luckily enough, lots of deer, some buzzards and wild pigs.
Germany still is the most underestimated holiday country in Europe, bosting some of the most breathtaking scenery thinkable.
It's a rich cocktail of spectacular rivers, majestic mountains and deep, mysterious forests. You will find well-preserved wine villages, towns and ancient cities. There are vast rivers, flower-covered hills and valleys, peppered with fairytale castles, magnificent churches, twisting rivers and historic cities. Everywhere are miles and miles of wonderful trails, and the country has thousands of kilometers of perfect (mountain)bike trails.
It's cheap, there are wonderful pubs and restaurants, and people are very nice and polite. Of course most people in Holland go to France, Spain, Portugal, Italy and Greece, but when you mention Germany they look like they smell a dead animal. On one hand hand it's a pity, but on the other hand I hope it will stay like that forever. It's only four hours driving from the west of Holland to the middle of Germany, but you notice hardly and Dutch tourists after having passed Sauerland, with Willingen and Winterberg being the ski areas the closest to Holland. One hour further, in the area around Bad Hersfeld, we didn't spot a Dutch car or tourist for a week. Maybe that's what we like the best about Germany :-)
Link: pictures
Posted: March 2, 2004 12:46 AM (271 words). Tweet
Comment over here or on my
Facebook wall
. . .