« WiFi heeft airco en bubbelbad verslagen | Index | Niet doen »
Silence ... Tweet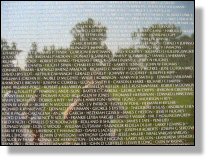 No more words needed: The Vietnam Memorial at The Mall in Washington. More pictures from our trip to New York, New Jersey, Penssylvania, Delaware, Maryland and Virgina in this album.
Posted: May 18, 2004 01:06 AM (30 words). Tweet
Comment over here or on my
Facebook wall
. . .