« 128 - 10 - 93 - 85 - 10 - 128 - 98 - 112 - 6 - 6 - 25 - 126 - 39 - 1 - 68 - 78 | Index | Bye, bye, mailmachine »
Upgraded tot 3.16: building like the devil Tweet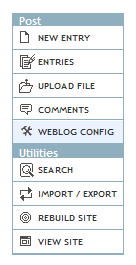 One of the top beauties of MovableType is the support community. Because I'm building and developing a new blog, to be opened soon somewhere else on the web, I decided to upgrade this one to the latest release - 3.16 - first, before installing and building the new blog on the new and empty server. Some extra experience never hurts. I'm not a real fanatic regarding upgrades and releases; my average is maybe 1:5. Let others solve problems and issues first, and then upgrade.
Having said that; this one I should have done earlier. I've heard there are some security issues involved, which should be solved by now, but the main difference is the new building speed. Amazing, rebuilding the database is at least twice as fast as it used to be in 3.121.
The upgrade went without big glitches. One minor problem: I wasn't able to reset the ActivityLog. MovableType kept saying: It looks like you've changed your password recently. Please log out and log in again to complete this action. So I did, to no avail. This is where the support forums come in handy. One question, one answer, this time from Kimberley from the Six Apart support team: Seeing this message means the files in the /tmpl/cms/ directory have not been updated to the latest versions.
So it must have been a glitch in the FTP process, cause I did upload this directory as well, as the time flags on the server show. Anyway, after deleting the contents of /tmpl/cms and uploading again, resetting the ActivityLog was possible.
I've posted a second question minutes ago, regarding a problem with the MT-Notifier plugin. MT-notifier one is going to replace my ten year old mail-machine. That is, if the problem is solved, because it is working too well; it sends two mails to every subscriber when a new entry is added to the blog, instead of one. When adding a new comment (an every subscriber can choose his own opt in/opt out possibilities) it acts normal and sends one e-mail. I'm waiting for an answer from the forum, and in the meantime, I'm busy building another 3.16 release.
Posted: May 31, 2005 08:53 AM (356 words). Tweet
Comment over here or on my
Facebook wall
. . .