« Young Learns Old | Index | Tagging is het toverwoord »
Big fun in Big Church Tweet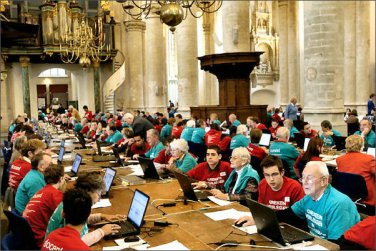 Big fun in helping during the setup, the tables, the chairs, building the network, even bigger fun watching the whole kit and caboodle: 200 HP laptops running in a network in a medieval church (The Grote Kerk) in Breda, The Netherlands.
'Changing Borders in Cyberspace' was a huge succes. During peak hours at tuesday the network was a bit slow sometimes, but it stayed up all day, thanks to Robbert, Bas, Martin and Leo, who installed and configured the connection, the routers, the switches, 5000 meters cat5 cable, and the laptops.
Twohundred elder people did their last internet course in a series of five wednesday afternoons sessions. All of them received a certificate at the end of the course. The tutors were high school kids who volunteerd for the project.
Great pictures: with all those people sitting behond their tables in the church it looked like a Zweinstein session in a Harry Potter movie.
Anybody anywhere running a project like this in English speaking countries? We'd like to hear about it, maybe exchange ideas, or projectplans.

Posted: November 24, 2005 01:25 PM (175 words). Tweet
Comment over here or on my
Facebook wall
. . .