« New pics, tagging, anybody? | Index | MacWindows OSXP »
In memoriam Donald Dukeman Tweet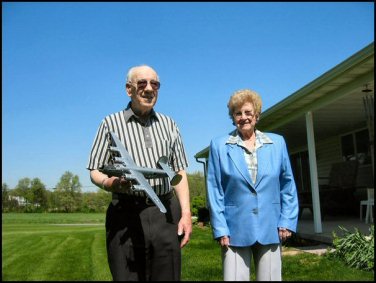 Picture: Donald Dukeman and Mrs. Gertrude Stuber-Kirlin, sister of Bill Kirlin, Donald holding a model of Baggy Maggy. (May 2004, Honeybrook, Chester County, Penssylvania).
Bad news these days arrives every so often over the internet, one way or antother; web, VOIP, sms, chat, rss, any possible way over the ever increasing GooglePlex, copper or wireless.
This time is was Gmail that prepared us for the death of Donald Dukeman, followed by a sad post on Easter Sunday under one of my old Baggy Maggy postings: 'Donald Dukeman has passed away'.
It was the internet where I met Donald for the first time, exactly two years ago. 'I was the flight engineer on that fateful day', he e-mailed, only days after I started an internet search into the origins of the little Baggy Maggy monument I'd biked into at Hoogstratensebaan on a sunny april Sunday morning, somewhere in the border area between Castelré en Hoogstraten.
My contacts with Donald – and Larry Hewin - resulted in a trip to Pennsylvania and West-Virginia, one month later, doing the interviews for a story in the our newspaper that ran later that summer.
The story was commemorating the 60th anniversary of the crash of Baggy Maggy, the B24 Liberator that came down on september 18, 1944 on the spot of the little monument that I'd run into.
While that story will be alive on the net for ages to come - just ask Google for Baggy Maggy – we cherished fond memories – of Donald and Pauline Dukeman, an we stayed in touch, over the internet.
With Donald who, like so many veterans, discovered the internet years after his retirement as a way to rediscover lost friends and crewmembers, decennia after they'd lost each other.
Like the survivors of the Baggy Maggy crew who had last seen each other minutes after they came crashing down from the heavens, and layed down in a Dutch meadow, wondering, thanking God that they had survived.
Then the Germans came running in for nearby Hoogstraten, separated them and kicked them to various prisoner camps in Germany.
Some survivors would only meet each other fifty years later, the Baggy Magy crew on behalf of amateur-historian Jos van Roozendaal, and all of them were using the internet intensively over the last ten years.
'Duke', like more men of his age, lambasting that devilish computer, wich he learned to operate when he was almost eighty, 'so much more difficult than the instruments of a B24'
We will miss deerly the 'warm regards' under the regularly mails form dukeman dee at epix.net

Link: Photoalbum Baggy Maggy
Link: Baggy Maggy; Living on Borrowed Time
Link: Orbituary on LancasterOnline.Com
Nederlandse versie
Slecht nieuws arriveert dezer dagen steeds vaker via internet; web, mobiel, sms, chat, e-mail, rss, Google of een combinatie van moderne mogelijkheden, al dan niet via (draadloos) breedband.
Ditmaal was het Gmail dat ons voorbereidde op de naderende dood van Donald Dukeman, waarna op Eerste Paasdag het noodlottige nieuws mij eerst via een comment op mijn blog bereikte: 'Donald has passed away'.
Op dezelfde manier heb ik Donald Dukeman leren kennen, op de kop af twee jaar geleden; via internet.
'I was the flight engineer on that fateful day', schreef hij, kort nadat ik op internet een zoektocht was begonnen naar het hoe en het waarom van het Baggy Maggy monument aan de Hoogstratensebaan in het grensgebied tussen Castelré en Hoogstraten. De contacten resulteerden een maand later in een bezoek aan de Verenigde Staten, ten behoeve van een verhaal in de krant ter gelegenheid van het feit dat het in september 2004 60 jaar geleden was dat Baggy Maggy neerstortte, op een steenworp van de Nederland-Belgische grens.
Terwijl dat verhaal tot in de eeuwigheid terug te vinden is door Google naar Baggy Maggy te vragen, koesteren we warme herinneringen aan Donald en Pauline Dukeman, en bleef er frequent contact, via internet.
Met Donald, die, zoals zovele oud-strijders, ver na zijn pensionering het net ontdekt had om contact te onderhouden met ex-bemanningsleden, decennia nadat ze uit elkaar gegaan waren.
Of, zoals in het geval van Baggy Maggy, elkaar voor het laatst gezien hadden nadat ze samen uit de hemel gevallen waren. Terwijl ze zich af lagen te vragen hoe ze de crash overleefd hadden, werden ze door toegestormde Duitsers gescheiden, en naar krijgsgevangenkampen gesleurd.
Ze zouden elkaar pas vijftig jaar later weer zien, de Baggy Maggy crew dankzij amateur-historicus Jos van Roozendaal, en allemaal gebruiken vanaf 1990 internet voor de contacten. Duke, zoals zoveel mannen van zijn leeftijd, meestal mopperend op die duivelse computer, die hij tegen zijn tachtigste onder de knie kreeg, veel moeilijker dan het instrumentarium van een B24 Liberator.
We zullen de 'warm regards' onder de mailtjes van dukeman dee at epix.net missen.
Posted: April 18, 2006 11:56 AM (787 words). Tweet
Comment over here or on my
Facebook wall
. . .