« Here we go: Writely | Index | Blue Oyster Spiral Fractal Zoom »
Google Earth Tweet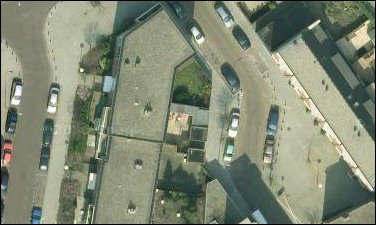 Lots of flying these days, in Google Earth. It was an easy prediction: since Google announced that the greater part of Holland is covered in high resolution now, alarming stories appeared in the traditional media, and also in the newspaper were I am working. The silly season barely gone, and politicians too busy with the November election as well as the wake of the fire in the detention centre at Schiphol airport, that killed eleven people, no new questions asked in parliament yet, but they will come, later.
By the way: if you have problems with installing Google Earth, for instance because your corporate firewall plays for CIA, you can go to Google, click maps, and it's like you're in Earth.
The high resolution is not very high everywhere. If I zoom in on my own house in Breda, I run into the same blurred images that I saw a year ago, so the satellite or AeroData, that does the job for Google over here, hasn't been back yet.
They did cover The Hague right. I don't know when those shots were taken, but it was on a sunny day. On at least two spots in town you can spot naked people taking a sunbath.
There's really not much to see, because even in this high resolution it's not clear if the sunbather is a he or a she. But it's pretty easy to find out which house in which street, and so a camjo team from Editie.nl from the RTL Channel called at the door in question, but nobody answered. While Big Brother was pretty close to her or his door, another citizen of The Hague, who was zooming in on his house and his favorite pub found his neighbor naked on his rooftop terrace.
My guess is that Google is not going to change anything, like taking pictures only at around zero temperatures - which would be a problem in (sub)tropic countries.
Lets wait for the next association of Google Fanatics: a club that collects shots of nudists beaches and parks.
Gay or punk, be warned; your favorite sport is somewhere on Google Earth.
Posted: September 22, 2006 03:34 PM (354 words). Tweet
Comment over here or on my
Facebook wall
. . .