« Down Under | Index | A Tour de France Google Maps API mash up »
Internet in Italy: passport please . . . Tweet

Parking problem the Italian way: a bunch of Ferrari's in Perugia.
I hadn't expected this in Italy, where everybody is always very busy doing things not allowed, but one can't check his e-mail just like that.
Passport fer favore! Excuse me, passport?
Turns out that in Firenze without a passport you're not allowed to touch a keyboard.
Huh?
Well, as I had to access my website after two weeks without Internet (at least with the help of keyboard), to clean up the log sites that grow fast to a gigabyte or so thanks to the bloody comment spammers, I handed him passport. First the guy took it trough a scanner, and then he filled in an online form on his computer. Once ready he gave me some kind of credit card with a ten digit number and a bar code. With the code I was able to start up an Internet session, which was coupled to my passport this way.
I asked him why.
'European law sir'. Bullshit of course, because there is not such law - at least yet. Although we and the French vetoed the first try to some European first Amendment we're still pretty European. So I pointed out to him that according to a Dutch law nobody but the police can ask me for my passport, let alone copy it, he shrugged his shoulders.
'This is Italy sir, take it or leave it. If I don't obey they will close my shop tomorrow'.
So, my American friends, don't say that I didn't warn you before you go to Tuscany this summer.
I might be wrong, but I think I didn't see too many USAnians in the Italian Internet cafes. Americans - for right or wrong - are rather preoccupied with terrorism, which is one reason they bluntly refuse to hand over their passport to an Italian.
On the other hand Italy is walking in line with these modern times.
Early in the morning we went for a cappuccino and a dolce in a coffee bar in Radda in Chianti, which also provided wireless Internet. A Yank with a Mac Book Pro was checking his e-mail. The cafe hot spot? 'Don't know, but it's working' , he told me, 'because for some stupid reason the guy behind the bar asked me for my passport'.
Instead he'd ordered a latte macchiato and fired up his Mac, pretending he was working off-line.
Sure enough his Mac picked up an unprotected wireless network, maybe from inside the cafe, maybe from the other side of the street.
And it might have something to do with all those high mountains, but anywhere in the French, Swiss, Italian and Austrian Alps and Dolomites my Nokia was able to access the net, sometimes only GPRS, but almost everywhere UMTS. But then again, it's 2007.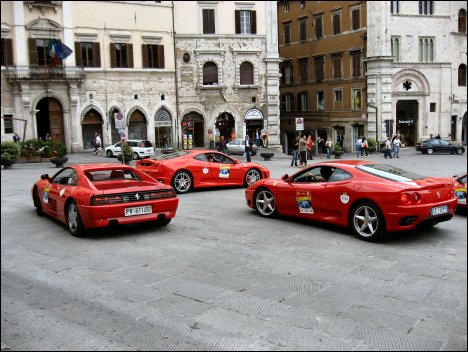 Posted: June 28, 2007 12:31 PM (465 words). Tweet
Comment over here or on my
Facebook wall
. . .